Upgrading or expanding your computer is one of the easiest, and most economical ways to stretch your technical dollar.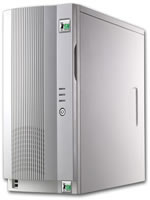 However, installation of hardware should not be attempted by the novice user. Most tech centers and superstores will gladly install your hardware for a fee, but you must bring your machine to them and most prices start at around $80 per hour.
These same centers will be happy to sell you hardware for your computer, if you can find someone to help you.
WhipNet is what every business large or small or home user has been looking for. We offer free pickup at your home or office and hardware installations at reasonable flat rates.
Whether you have already purchased your hardware, or are looking for expert advice, WhipNet can help. We offer friendly and experienced professionals to install your hardware, assist in selection, check compatibility with your current computer, and troubleshoot a failed install.
Larger businesses looking for complete network and desktop rollouts, look no further.
Newer computer hardware and software runs amazingly fast and rarely crashes anymore. If your computers are more than 3-4 years old, you should think about investing in some newer models.
The current "middle of the road" PC configurations are 2.0 gigahertz machines (five times faster than the Pentium 400 megahertz machines from not so long ago). New brand name PCs can be found for around $650 and nice, large 19 inch monitors are around $250.
Add software and you have a fair amount of money, but consider how much more productive and profitable you are because you are using computer technology. Many companies work on a three or four year replacement cycle, and structure equipment financing to support that cycle. Every year one-third or one-fourth of the PCs in the company will be replaced with current technology. Equipment leases can help make technology affordable.
WhipNet will help define a "standard" PC configuration for your company and work out a timeline for purchasing the new equipment and swapping the PCs. The equipment will be set-up and installed with the least amount of disruption possible.
New equipment rollouts are also a good time to look at setting up a secure file server and internet connectivity to enhance productivity even more. Perhaps it would also be a good time for some software skills training for your staff.
We will help you come up with a technology renewal plan that works for your budget and your needs.
Please see our Custom Designed Network Builds.