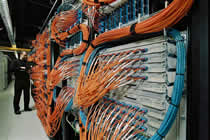 If the future belongs to the informed, then businesses best positioned to maximize their opportunities must devise ways to get the right information, to the right people, at the right time. Such is the focus in the marketplace today with companies improving existing networks and others establishing new networks to provide the competitive edge.


Whipnet has been a major participant working with prospects and clients seeking cutting edge solutions to meet the growing demands for information distribution. From LAN based systems supporting smaller businesses to educational facilities building desktop networks, Whipnet has contributed winning designs capturing today's needs while supporting tomorrow's demands. Whipnet's computer assisted designs outline the details of network topology and the best approaches for error free installation.

Coupled with design elements, Whipnet supports complete systems installations from product selection to final testing and implementation services. LAN rollouts are supported whether local or national in scope. Included are system burn-in, on-site install and LAN/WAN certification together with training for on-site personnel. Physical infrastructures are fully supported from premise component installation to the cabling of complete company facilities. Whipnet's experienced personnel are available for a wide range of project requirements.
Related