At WhipNet, we are business consultants with a singular focus: the enduring success of your enterprise. Through our unique expertise, wealth of business experience and advanced IT solutions, we can help you Acquire, Retain and Grow your customer base. The results? Your ability to consistently, efficiently outflank the competition, even in today's most demanding business arenas.
Solutions from WhipNet take on many forms, and address a wide range of business functions. Yet, they all have something in common: every solution we offer is designed to help enterprises profitably grow, even in the face of today's most formidable business challenges. What's more, WhipNet experts have proven, again and again, the effectiveness of our solutions across a wide range of industries.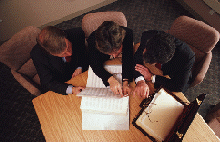 We give advice on technology related issues and offer our expertise to your business regarding how it can best benefit your company. We serve on several technology committees for local businesses as consultants to help oversee their technological development and growth. We assist you in developing maintenance schedules, evaluating hardware and software for purchase, setting up backup and disaster recovery plans and implement rollouts and migrations.
Please see our Custom Designed Network Builds.