THE OMEGA FILE:
Part 7 <-- | -->
Operation Rolling Thunder
Reno and Benson have mentioned this operation which comprises county-wide sweeps of house to house, dynamic entry, search and seizures for all guns and food stockpiles by B.A.T.F., state national guard, activity duty soldiers, as well as local police. This function is also run and coordinated through F.E.M.A.
Public Law 100-690 banned almost ALL RELIGIOUS GATHERINGS [not yet enforced..]. (Note: When and if this is enforced, this will be a blatant defecation upon the BILL OF RIGHTS, and in this event every true American is allowed -- and in fact it will be his and her Patriotic DUTY -- to implement the clause within the DECLARATION OF INDEPENDENCE to OVERTHROW such an alien or FOREIGN tyranny-structure which has like a tape-worm infested the governing 'body' of America. - Branton); grants no-knock search and seizures without a search warrant; expands the drug laws to include EVERY American. This will generally be the prelude, or in addition to, a F.E.M.A. operation and contingency plan implementation.
The Omnibus Crime Bill of 1990. Ensures confiscation of all private property via money laundering, environmental violations of the Clean Water and Air Act, and extends as far as child abuse. This act also coordinates activities through F.E.M.A. and the Department of the Army, Commanding General, U.S. Forces Command, Fort McPherson, GA which is the executive and implementing agency upon initiation of many of these acts. The responsible agency within U.S. Army Forces Command was what used to be known as the Deputy Chief of Staff for Operations, Plans Division [DCSOPS, Plans], which was changed several years ago to J-3 after the Headquarters became a joint headquarters. They keep on file copies of all F.E.M.A. Emergency Management Operation Plans, including those plans developed by the Army to support the F.E.M.A. plan to eliminate the U.S. Constitution upon implementation. According to current plans, the Constitution will be 'temporarily' discontinued and shelved until the real or perceived and declared 'threat' has been neutralized (ask yourself -- who or what is the REAL threat that needs to be 'neutralized'? - Branton). But once 'shelved,' as with almost every other action of the Government, it STAYS shelved.
The Crime Bill of 1994. Banning of all military weapons which are necessary to the formation of a militia [when needed], denies other military equipment to the people's militia units (that's OK... the average American gun owner can legally acquire this 'equipment' from off the DEAD BODIES of UN/FEMA-backed gestapo forces when they break-in to our homes to steal our personal property or try to take us and our families prisoner without due process of law. - Branton), prelude to confiscating ALL guns in the hands of private citizens, DESTROYS the 1st Amendment, and makes virtually every American an outlaw. See above comments concerning the house-to-house search. The agency responsible for the actual implementation and search is the Department of the Army in concert with local and state police, including F.E.M.A., FBI, BATF, and other Federal Agencies.
There have been documented over 60 secret, VIRTUAL CITIES, UNDERGROUND, build by the government, Federal Reserve Bank Owners (such as the 'Rockefellers', etc. - Branton), and high ranking members of the Committee of 300 [some of these under-ground areas can be seen in Kansas City, Missouri and Kansas City, Kansas]. In additional, there exist underground Satellite Tracking Facilities which have the ability to punch your 911 address into the computer and a satellite can within seconds bring a camera to bear on your property to the point that those monitoring can read a license number on an automobile in your driveway. These facilities have as of Oct. 1, 1994, been turned over to the [foreign power of the] UNITED NATIONS. (Note: Forget the license plate, according to information released by Norio Hayakawa, this satellite technology is now so sophisticated that they can CLEARLY read every word on your driver's LICENSE supposing it were in view of the satellite. - Branton)
At this point we will discuss present plans by the Bavarian Illuminati and other Bavarian cults to stage an invasion of America under the cover of a United Nations 'New World Order' operation to "restore order to America" in the event of an internal emergency, a "staged" emergency of course. The REAL motive would be to destroy every last vestige of patriotism and resistance to the New World Order. For those who are not familiar with George Washington's famous vision at Valley Forge, I would highly recommend that you locate a copy since the vision correctly predicted the outcome of the Revolutionary war, the Civil war and it's outcome, and the 'third trial' that America must pass through before it enters into its ultimate destiny. Following this war according to Washington, no power on earth, in heaven, or in hell would be able to stand against her divine destiny. Compare this prophecy with the prophecy in Revelation chapter 12. Could America be the 'wilderness' mentioned in that chapter? Also compare that prophecy with the fact that America and Israel harbor more Jewish citizens than any other nations on earth, more or less equally distributed between the two.
Washington, in this angelic vision, saw a dark red cloud rise out of Europe, the Middle East, Africa and Asia. This cloud carried a massive army with it and this army then invaded American soil and commenced to engage the citizens of America in battle, as the nation was engulfed in the dark cloud. He saw most of the major cities in flames. The Americans rallied their forces in a common defense and from their newfound unity of purpose they continued the fight, according to the vision. According to other private visions that are not as well known, yet which confirm Washington's own vision, the Rocky Mountains and the Great Plains west of the Mississippi will apparently be the heart of the "Free America" zone where the true Americans will make their stand, and those areas east of the Mississippi River will be the hardest hit by the occupying forces. Those border areas north, south and west of the Rockies / Great Plains may also be threatened, however Washington's vision did not go into detail on this, neither did he see exactly how long the battle would last. In the vision he was shown that near the end of the war when the American resistance seemed to be "well nigh overcome",
Divine Intervention would bring about an American victory as "legions of white spirits" descended to join the Americans in battle. The broken ranks would be re-fortified and the American militia would go on the offensive and eventually drive the enemy into the sea. This would apparently coincide with the destruction of the power-base of the New World Order in Europe, which would also be the result of Divine Intervention in keeping with the Apocalyptic prophecies of the book of Revelation. Just who were these "white spirits" that General Washington saw in his vision?
I recall an interesting sermon I heard from a Pentecostal evangelist years ago. He claimed that he was friends with some government scientists with high-level security clearances. It seems as if they had detected, with powerful electronic telescopes, a brilliant and beautiful 'star-like' object emerging from the 'vortex' within the Orion NEBULA. This nebula is several hundred light years BEYOND the Orion open cluster itself, which is in line-of-site between Sol and the Nebula. From our perspective this awesome nebula is the middle star in Orion's "dagger" which hangs from Orion's "belt". Some have interpreted this to be the area that Lucifer referred to as the "Sides of the North", which was the ultimate target of his war against the Creator and his vain desire to conquer the heavens and the throne of the Almighty One. Others have referred to this vortex in the Orion nebula as the Eternity Gate, because they believe it leads to the Eternal Realm of the Creator which exists beyond our time-space-material universe.
This brilliant object however is on a direct course to the Sol system and earth, according to these scientists, which means that it will eventually pass through the core of the Orion cluster. This does not mean that the Angelis forces who are believed to reside in this awesome "City of Light" must wait for this to take place to wage their "war in heaven" against the Unholy Six Empire of Orion -- as some Federation worlds refer to it because of the six draconian-controlled star systems which make up its core -- being that the Angelic "light beings" can travel at the speed of thought and enter any point in time-space instantaneously. However even though this City of Light is on a direct course to earth, at its present rate of speed, according to this Evangelist, it will not arrive here until sometime around 3000 A.D. or the end of the "Millennium", all according to the perfect timing of the Creator.
This is EXACTLY when the book of Revelation states that the New Jerusalem will arrive and descend to earth. Revelation states that this CITY OF LIGHT -- home of the Son of God Melchizedek [an immortal being described in the Old Testament, to whom Abraham paid tithes], also known as Jesus the Christ, and also the home of His Angelis command forces under the Archangel Michael -- is some 1500 miles high and 1500 miles wide, foursquare. Some suggest that this would be a large 'cube'. However I recall reading the story of some Chinese Christian children years ago who experienced simultaneous visions of the New Jerusalem as a vast three-leveled PYRAMAL city of light. Of course pagans have used 'pyramids' for their own purposes, yet this does not necessarily mean that the Almighty does not use this form as well, especially when we consider the tendency of pagans and fallen angels to counterfeit that which the Almighty One has done. So a pyramidal city of light would also be just as tall as it is wide, even though the interior of the city will not necessarily be limited to the time-space-material restrictions of this omniverse, being that the interior of the New Jerusalem Command exists in the realm of ETERNITY...
The "war in heaven" and the war on earth will apparently NOT be just a physical war, but a physical AND spiritual war between Lucifer and his draconian denizens operating through the pagan New World Order, and Michael and his angelic warriors backing the Judeo-Christian American Republic. In this sense, as the conflict between Free America and the New World Order increases, the CHAPLAIN will be just as important if not more so than the GENERAL, since this war will involve simultaneous attacks against all three levels of our beings -- spiritual, psychological,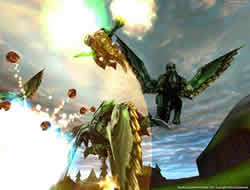 and physical. As these events become more common, gone will be the Darwinist THEORIES which would deny that humanity and nature possess any spiritual attributes. You could say in a sense that all of this will amount to a 'Holy War' against a fascist-satanist empire and its draconian backers. In other words the distinction or barrier which formerly existed between the spiritual and physical worlds may very well collapse as the two become one. There will no doubt be a large number of traitors and infiltrators living in America who will try to betray the USA to the invading forces, not being true Americans, but most of these will no doubt be forced to take one side or the other when the final confrontation occurs, and that confrontation IS inevitable. And it will probably be a surprise attack when Americans least expect it. Some have suggested that the invasion is being planned for winter and around Christmas Eve, which might make sense. It would not be very logical to stage such an invasion on the 4th of July.
Although Divine intervention will bring about an end to the New World Order, the question would not so much be whether the draconian conspiracy against planet earth -- working through the UN/NWO -- will or will not succeed. The question is how many of US will survive to the end. I firmly believe that this will depend on our own collective choices and our willingness to work together as Americans, regardless of color or creed, being unified around the National standard and holding fast to the inspired documents upon which the United States of America was founded, or in the case of the other American Republics... holding fast to the democratic principles that all men are created equal and that the citizens of any given nation have the right to determine through electoral freedom the course and nature of their government and laws. We must strive as a unified force to defend, by the grace of God, our fellow citizens -- men, women and children -- with whom we share this oppressed yet nevertheless "last bastion" of freedom, America.
The following information was released January of 1997 by Dr. Al Overholt. Titled, "THE FINAL INVASION OF THE U.S.??", the document reads:
From the INTERNET, 12/96 [quoting:] The following, about a possible planned 'invasion' of the U.S., is, I know, the sort of alarmist thing one hears from time to time. Yet it ties in with other events that make it not readily dismissible.
(1) U.S. forces sent to Bosnia, not here in the USA to protect us.
(2) U.S. forces going to Zaire, further diminishing National Security.
(3) Gulf War Syndrome, decimating U.S. military.
(4) Gradual infiltration [known] of GERMAN military into the U.S.
Like I say, the following might be only alarmist claptrap. Then again.... *caveat lector*. This means, "reader beware." In other words, it is up to the reader to form her/his own judgments as to the following. [End quoting]
From: Stop All Federal Abuses Now! S.A.F.A.N. Internet Newsletter, No. 129, November 15, 1996
(Take note on how the New World Order is trying to incite civil war between British Columbia and French Quebec, Canada, and use this emergency as an excuse to activate unconstitutional executive orders in America. This has not been the first attempt to create an "emergency" that would "justify" martial law in America, and if this one fails, then it will certainly NOT be the last attempt. I take this report very seriously, being that my own ancestors were Frenchmen who became British citizens and later immigrated to America. Just WHAT force would try to create a civil war between French Quebec, British Columbia and America? Could it be, just possibly, that same "force" which was responsible for killing hundreds of thousands of French, British and American allied soldiers during World War I and World War II? - Branton)
THE COMING INVASION OF AMERICA
Posted by Roger D. Cravens (rbg@CCDOSA1.EM.CDC.GOV The following is most of the message printed in THE PROPHECY CLUB NEWSLETTER from Intelligence sources in Canada and New England, [quoting:]
Preparations for the COMING INVASION OF AMERICA by Russian/NWO FORCES are progressing rapidly in Canada! As candidly admitted to me by many Canadians [including author and lecturer Grant Jeffery of FINAL WARNING and many other books explaining the coming New World Order takeover] Canada it totally sold out to the NWO and its heinous agenda of world domination.
(Note: I would suggest that this statement is somewhat extreme. Certainly those ADVOCATES of a New World Order operating within certain executive levels of Canadian government are sold out to the agenda, but no more so than the advocates for the NWO operating within various executive levels of the AMERICAN government. It is obvious that the majority of Canadians AND Americans desire to maintain their national independence, and it is THESE who the advocates of the New World Order are apparently willing to sacrifice in the devastating civil wars that they have 'planned' for America and Canada. We must realize that just as there is an electorate AND a secret government within America, the same holds true with Canada as well. - Branton)
America has long been a thorn in the flesh of the NWO planners, because of our Christian heritage and its isolation from Europe. With little over three years left to move this Western Hemisphere into their NWO agenda by the year 2000, they are making rapid use of Canada's [NWO advocates'] willingness to betray America into their control.

How is this taking place? Canada has opened her doors wide to NWO forces, including GERMAN, RUSSIAN AND CHINESE. As Grant Jeffery admitted to me personally one month ago, "we have MORE GERMAN MILITARY FORCES IN CANADA NOW THAN WE DO CANADIAN MILITARY FORCES [emphasis mine]!" Indeed, for next to Dease Lake, Canada, Germans have been handed a military air base for their use. They are actively practicing bombing and strafing runs for the coming Invasion of America...much as they are doing down at Holloman AFB, which has been permanently turned over to the Germans (in NEW MEXICO).
The traitorous NWO elements within our own government are fully aware of the motives of these GERMAN NWO FORCES both in Canada and America and welcome their presence into the Western Hemisphere as part of the solution to subduing patriotic Americans who simply refuse to surrender national sovereignty to a foreign power. Russian and Chinese forces are also very active in Canada. They are "re-building and strengthening railroad tracks for the anticipated heavy use of railway transportation of incoming military personnel from the West Coast" [both Russian and Chinese forces] as well as transporting military vehicles and armaments and food supplies. New tracks are also being laid between border states and Canada. Those people who are arrested as resistors or dissidents will also be transported in specially prepared prisoner boxcars to the death camps already established near the border, such as the one near Cut Bank, MT. The death camp outside of Cut Bank has been conveniently located right off a major AMTRACK express line in the anticipation of transporting resisters and dissidents conveniently to their deaths by rail.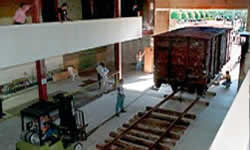 Reports have been received from INTEL sources nationwide which indicate that certain boxcars are quietly being renovated from the inside so that they can be used for prisoner transport to such death camps. Preparations noted by eye-witnesses include shackles being bolted into the walls to restrain those taken prisoner until they reach their final destination. From our intelligence source in Florida, we know that Russian train engineer experts are already being trained in how to operate American engines and how our rail system functions.
Russian railway procedures differ from American. As least fifty Russian engineers are in training presently in Jacksonville, Florida. Many others are apparently being trained in other locations as well.
(Note: Some have alleged that the sudden 'fall' of the Soviet states and the Berlin wall was planned in advance as part of an agenda to merge the East and the West into a so called democratic-socialist/communist-socialist New World Order. East and West Berlin would be at the forefront for the reunification of Eastern and Western Europe and in turn -- they hope -- the rest of the world. Germany has also led the way for European unification by establishing an 'open border' policy and encouraging other European countries to do the same. This may sound benign on the outside but considering the facts it may be a ruse to 'unify' Europe under German control, which was actually Adolph Hitler's goal. However in this case the unification is being accomplished through economic means rather than military means. The control is still in Germany but it is more subtle. The Third Reich established German MILITARY control of Europe. The "European Economic Community" or E.E.C. established ECONOMIC control. In most cases, in this world it is the ECONOMIC forces which control 'governments'. Sad, but true. Notice how the term "Economic" has now been removed, and the New World Order has been re-named the "European Community". Very clever! In other words the unification is no longer just along economic lines but is becoming increasingly political, since the member nations have been pressured into submitting to an E.C. constitution along MORE THAN mere economic lines. France and England have been pulled into this alliance, in spite of two devastating world wars with the country that is secretly orchestrating the E.C., aka the New World Order. Come on France and England, get a clue!!! Germany is not only the largest federated state in the E.C., but in 1990 was the LARGEST economic power in the WORLD, with a trade surplus totaling over $58 billion. With almost no foreign currency reserves in 1949, Germany had accumulated nearly $80 billion in reserves by 1989, compared with the $38 billion in the U.S.A. and $41 billion in Great Britain. A rather incredible "comeback" for a country that had waged two world wars for the sole purpose of offensive conquest, wars that had cost the Allies a HEAVY price in blood and resources. Of course Germany is also the LEADING economic power in the E.C. as well, possessing 35% of the Economic power-base of the European Community according to the GROLIER ENCYCLOPEDIA. So just WHERE does the real power lie in the E.C. / N.W.O? Considering that the German Black Nobility -- who have controlled vast financial empire's for over 1500 years and have ruled the [un]Holy Roman Empire for centuries -- were the same ones who sent Vladimir Lenin from GERMANY to Russia to start the Communist Revolution, AND the same powers who backed Adolph Hitler... then it is not surprising that Communist East Germany would merge into Democratic(?) West Germany with such ease. It should not be surprising, therefore, to learn that GERMAN troops In the United States AND Canada play a MAJOR role in the planned invasion of North America -- since after all most of the New World Order agenda had its roots in Bavaria region of Germany. Most do not realize that Adolph Hitler's second book, after he wrote MEIN KAMPF, was titled -- believe it or not -- "THE NEW WORLD ORDER". - Branton)
Already seen being transported on these train lines are huge power generators to various locations in Canada, in anticipation of the planned power outages that will be triggered deliberately both in Canada and America as the planned takeover methodically takes place.
Incredibly, we now have information that [All emphasis mine, below] THE RUSSIANS HAVE FINALLY SUCCEEDED IN BRIDGING THE GAP BETWEEN SIBERIA AND ALASKA THROUGH A VAST UNDERGROUND TUNNEL! (The Bering Sea between Alaska and Asia is UNDER 100 miles wide at its narrowest point, so this would not be an inconceivable undertaking - Branton)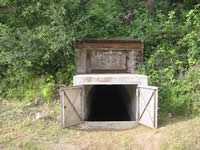 Although documented in more than one newspaper report in Western Canada, THE AMERICAN NEWS MEDIA HAS REMAINED SILENT ON THIS FEAT. RUSSIAN CIVILIANS (???) ARE KNOWN TO BE COMING THRU THIS TUNNEL, 100 PER MONTH, PLUS HEAVY MILITARY ARTILLERY. ALSO, THERE IS YET ANOTHER TUNNEL THAT HAS BEEN BUILT FROM SIBERIA TO NORTHERN CANADA, THIS ONE BEING USED FOR RAILROAD TRANSPORTATION PURPOSES.
(Note: It is interesting that several underground tunnels have been discovered by American troops which originate in North Korea and run under the border, emerging at different points in the border region of South Korea. Some of these tunnels are well-built and modern and could accommodate massive troop movements. It appears that North Korea may be planning something for the future, possibly in conjunction with the Russian-Chinese plans mentioned above? A U.S. Air Force Officer who wrote an expose on U.N. betrayal of America forces during the Korean and Vietnam 'wars' has stated that based on intelligence data he has gathered, those Vietnamese 'boat people' who 'escaped' to America AFTER -- not BEFORE -- North Vietnam took control of the South, were and are die-hard Communists. The reason for this is that when the North took control of the South of Vietnam they immediately hunted down all known Anti-Communist activists and sympathizers and exterminated them. In other words the 'boat people' who left Vietnam FOLLOWING the 'purge' were mostly Communist infiltrators masquerading as people who were 'escaping the Communists'. The USAF officer claimed that these infiltrators are involved in a plan to bring down America, and that they have been accumulating and storing huge weapon stashes in anticipation for the time when they will be called in to action to join their comrades in their war against America. - Branton)
The extent of the American Government's [the corporate fascist military-industrial 'government' as opposed to the Constitutional or electorate 'government'] betrayal of her citizens can be further evidenced in the fact that these Chinese and Russian forces are RECEIVING PAYMENT FOR THEIR PRE-INVASION ACTIVITIES THROUGH THE INTERNATIONAL MONETARY FUND... ISSUED ON AMERICAN GOVERNMENT CHECKS.
In anticipation of the coming invasion from Russia and China [and German - U.N forces, etc.] Canada has even gone so far as to disband its Western Coast Guard Division, thus they are open to amphibious invasion of America from the West. This was openly evidenced recently through the presentation of a documentary report over the BBC television in London which detailed amphibious assault forces practicing war maneuvers and strategy in the Formosa Straits.
When BBC newsmen were permitted to interview these soldiers in training, they repeatedly asked them the following question. "What are you preparing to use this training for?" The shocking, consistent reply was "FOR THE COMING INVASION OF AMERICA!" When it became clear that a gaff in security was created by airing this broadcast over television in England, its scheduled re-broadcast for the next day in London was hastily canceled.
(So then, for our readers in our West Coast and especially Hawaiian Naval bases, TAKE NOTICE. You are the last line and front line of defense against such an action. Remember Pearl Harbor, and learn from the mistakes of the past!!! - Branton)
SPECULATE NO MORE ON THE SUSPICIOUS SUICIDE OF ADMIRAL MICHAEL BOORDA [FORMER DIRECTOR OF THE U.S. NAVAL FORCES]. I WAS INFORMED HE WAS TERMINATED BECAUSE OF HIS REFUSAL TO COOPERATE IN THE COVERT PLAN BY OUR TRAITOROUS NWO FORCES WITHIN OUR OWN GOVERNMENT TO ASSIST IN THE COMING INVASION OF AMERICA. WHEN HE REFUSED TO GO ALONG WITH THE PLAN TO COVERTLY BEING CHINESE FORCES INTO AMERICA THROUGH USE OF OUR OWN NAVY VESSELS, ORDERS WERE GIVEN FROM ON HIGH TO TERMINATE HIM.
The message is clear. This message is to inform those who may not know the magnitude of the New World Order and its massive agenda. BE WISE AND INVESTIGATE FOR YOURSELVES. We are not getting the truth from agents of government. Examples are Vietnam, Waco, Ruby Ridge, Militias, TWA800, Oklahoma, etc. Beware and prepare! God Bless America. [WE CERTAINLY WON'T STOP IT WITHOUT HIS HELP.] We need his blessing. ARE WE GOING TO WAKE UP IN TIME TO STOP THIS??
[The following accompanied the above information, in the newsletter from which these reports were taken...]
The following articles are excerpts taken from advertisement flyers put out by Serge Monast. They have short news-bites of VERY INTERESTING INFORMATION THAT I FEEL IS WORTH PONDERING. For those who haven't heard yet -- Serge Monast was recently deaded [killed] for his daring exposes of the Elite. His son was kidnapped shortly before he was [killed], also because of his exposing their dastardly deeds and plans to make most of us their slaves... SOON!! I don't have any information whether or not any of his reports are available since he has transitioned to the heavenly realms.
Al. FEMA: RED IRON PLAN -- NATIONWIDE STATE OF EMERGENCY -- NATIONAL STATE -- SOVEREIGNTY ENDANGERED.
Excerpted from THE INTERNATIONAL FREE PRESS AGENCY 'REPORT', 12/96, [quoting:] FORWARDED MESSAGE: FROM: U.N. Military Confidential Source. Sender: Int'l Free Press Agency, Fax: 1 (819) 888-2949 Reply to: Int'l Free Press Agency, Fax: 1 (819) 888-2949 To: Please forward this crucial information to all networks.
World, National Date: December 3rd, 1996; Time 15:00 GMT EXTREMELY URGENT... RED ALERT CONFIRMED HIGH U.N. SENSITIVE MILITARY INFORMATION. NOTE: PLEASE PAY CLOSE ATTENTION TO THIS ONE... KNOW THAT FOREIGN TROOPS ARE IN STANDBY... THEY ARE DAGGERS POINTED AT THE HEART OF OUR HOMELAND AND SOCIETY... THIS IS REAL... THAT'S ONLY THE BEGINNING...
RED IRON FEMA PREPAREDNESS... FEMA: RED IRON FEMA PLAN/NATIONWIDE STATE OF EMERGENCY / NATIONAL STATE SOVEREIGNTY ENDANGERED... STORM WARNING IN AMERICA...
Department of the Army, FEMA, FBI, BATF, State and Local Police and other Federal Agencies involved [knowingly OR unknowingly]... the R-EMAP regions correspond exactly, by location and number, to the FEMA regions... R-EMAP, an EPA program, stands for Regional EMAP... UN's Global Biodiversity Assessment (GBA) for UN's Foreign Troops Global Training Centers & Detention Facilities Areas... Bring about national disaster BY ALL MEANS, social unjustified unrest into "Black communities", national financial crisis as a result of massive budget cuts, national social crisis blamed upon Militia and Religious Groups before the end of 1997... 1 million patriotic Americans who may resist the New World Order and Americans who are not "politically correct" are already listed and targeted to be arrested... [Specifically mentioned are Christian followers of those who run talk-shows throughout the country and Churches not under federal control]
Very high secretive United Nations Military Plans... Never released before... TOP CONFIDENTIAL at high political level... also concern RUSSIAN AND FOREIGN TROOPS DEPLOYMENT AND OCCUPATION OF U.S. TERRITORY UNDER UNITED NATIONS MILITARY COMMAND... FEMA - U.N. Multi-Jurisdictional Police/military operation "TO NEUTRALIZE ALL PATRIOTIC AND CHRISTIAN ORGANIZATIONS IN AMERICA BEFORE THE END OF 1997"... ...FEMA canceled their scheduled Aug./Sept. 1996 "exercises" and changed it to the period between Jan./March 1997 which link to "PHILADELPHIA PHASE III" -- to start in Eastern Canada during the same period... High-ranking politicians and military involved... Strong link between main roads to be used by foreign troops stationed in MEXICO and CANADA and Detention facilities areas, Biodiversity areas, some Military bases and railroad centers... [End quoting]
COUNTDOWN TO THE 1997 NORTHERN SHOWDOWN
Excerpted from RED ALERT REPORT, Aug. '96, [quoting:] International cross-checking verified sources and other absolute reliable and "unprecedented" sources of documentation [DATED JUNE 1996] tell us that this time is for "REAL". No fiction, no imagination, no process of deduction, the "TOP SECRET" scenario we now have in our hands is just BEYOND EVERYTHING EVER IMAGINED BEFORE. We can surely state that no one else anywhere has the "FULL COMPLETE PICTURE" with all accurate details of what has been carefully planned at the highest level of the world Politics and Economic Elite for something (BIG) to happen in 1997 which will disrupt life of millions of people. With full, well documented documents strongly supported by various serious unknown Politics and Military hard evidence files copies and actual documents for a major prearranged "Chaos", WE KNOW: * "WHY, HOW and WHEN a "DECLARATION OF A NATIONAL STATE OF EMERGENCY" in the U.S. will emerge during night time, and which are the 19 States that will be placed under "MARTIAL LAW"?
* WHAT will be the precise "MILITARY AGENDA" in the targeted States for FEMA, Foreign UN Battle Groups, FINCEN, MJTF and BATF troops?
* WHAT are the names of these -- people -- in Canada, in the U.S. and throughout the world who planned and finalized the 1997 scenario?? You might think you know something. Beware of what you always think which might not be this time what will really happen.
* KNOWLEDGE IS THE BEST PROTECTION.
* NO ONE CAN PROTECT THEMSELVES IF THEY ARE UNAWARE HOW THEIR RIGHTS ARE THREATENED. [End quoting]
RECENT NEWS FROM THE PARTISAN RANGERS OF OHIO
Excerpted from Serge Monast's International Free Press Agency, "THE PARTISAN RANGERS OF OHIO", 8/14/96, [quoting;] United States Military Command Office... (Mag. Gen. Darren Day) CANADA: On August 14, 1996, the Canadian Serge Monast was interviewed on the Steve Quayle SW radio program (9400); our Col. Watchman supplied a summary as follows:
The Russian ID system is probing before invasion to test the strength of police units; create havoc, such as riots, to see what the reaction is; see the reaction of the people; create confrontations with the militia and Patriot groups to test their response.
THE EAST COAST IS THE START OF THIS INVASION. New Brunswick, Nova Scotia, brand new unit specializing in "search and seizure", "roundups" -- COLD WAR WEATHER AND ARCTIC-PREPARED. The 82nd Airborne, Mountain Division, Watertown, NY, same preparedness -- with these two units they can close off the St. Lawrence sea-way. Invasion routes: from Nova Scotia through Maine, across the borders.
* "The Champion Paper Co. is cutting [trees] on the mountains closest to the Canadian border, creating a clear area to the border before the mountains. They're also spreading herbicides. 'Satellite motion-sensor detection equipment to be installed in area.'
* "Phase One of Project Philadelphia is about two-thirds completed: rise in prices, shortages of food, power outages, civil unrest... expect a price doubling in your staple food items.
* "Phase Three -- Quebec Hydro shutdown; this is the 6th largest electric power [plant] in the world, and controls ALL ELECTRICITY EAST OF THE MISSISSIPPI... Scheduled to go down any time from Jan./March. An "induced" outage during the cold of winter (winter of '97 - '98 or a following winter? - Branton) would create the most hardships and be a major "emergency" crisis condition...
* There were two very high ranking Quebec hydro engineers aboard RON BROWN'S plane. Keep your eyes on Canada. [End quoting]
And from an article titled "TOP-SECRET NEW WORLD ORDER PLAN", from the same publication: "...Television commentator Bill Moyers found out during a fifteen-day, globe-spanning trip in the company of David Rockefeller that just about a dozen or fifteen individuals made day-to-day decisions that regulated the flow of capital and goods throughout the entire world." He quotes Bill Moyers himself as saying:
"David Rockefeller is the most conspicuous representative today of the ruling class: a fraternity of men who shape the global economy and manage the flow of its capital. Rockefeller was born to it, and he has made the most of it. But what some critics see as a vast international conspiracy, he considers a circumstance of life and just another day's work.... In the world of David Rockefeller it's hard to tell where business ends and politics begin."
Cannot we say the same thing about the Executive branch of the U.S. Government? It's hard to tell where politics ends and the 'corporate' military-industrial 'government' begins. Later in the same publication, in reference to "PHILADELPHIA PHASE III", we read: "The basic scenario finalized at the June 1996 meeting in Toronto, and completed with other reliable sources, is as follows:
(1) Quebec makes its Unilateral Declaration of Independence between January and March 1997. This situation provides the "trigger" for the catastrophic and irreversible "breakup" of Canada and the "Declaration of a National State of Emergency" in the Eastern and Northeastern part of the United States.(Note: Those British citizens within British Columbia AND Quebec can prevent a civil war by doing the last thing that the New World Order advocates expect, that is they can do NOTHING. If you refuse to go to war against your Canadian brothers and sisters of Quebec then there will be NO civil war. The only ones left to fight will be the German military units occupying Canada -- you know, the same guys who killed Frenchmen, Britons AND Americans in the last two world wars. Whether or not you believe Quebec should have its independence, you must ask yourself -- what would be more preferable... an independent Quebec, or a devastating civil war that will end in the destruction of both British Columbia and Quebec and the assimilation of ALL of Canada into the New World Order? If war breaks out between the New World Order and North/South America, the Republics of British Columbia and Quebec will have to either side with the NWO or America. There will be NO neutrality in such a war. Either Canada, Mexico, Central America, South America, etc., will be completely taken over by the New World Order -- meaning that their cultural distinctiveness and national independence will be forever destroyed -- or they will join as allies with the United States of America in a type of Union of American Republics, independent Republics, yet united in a common front to defend these last bastions of freedom and liberty on earth from the onslaught of a neo-Nazi "New World Order" dictatorship. IF we choose that side which we KNOW is favored by Almighty God, then we will have Divine protection and guidance. Remember that those satanic cults which motivated the atrocities of Nazi Germany are the VERY SAME FORCES which are promoting the New World Order. And if you think Nazi Germany was bad news, you can bet that this time around they will have learned from their 'mistakes' and will be far more determined this time to succeed. So we must also learn from the mistakes of OUR past and be even more determined to succeed than our would-be enemies. Remember what George Washington revealed in respect to his vision of America's future. If we try to build and maintain a society -- in spite of our past mistakes and lack of vigilance against the enemies of freedom from without and within --, a society which is based on justice, mercy, truth and indeed a "nation under God", then all of the powers of heaven and the angelic forces will be behind us. I myself am a non-denominational Christian Patriot who believes in Jesus as the only spiritually begotten Son of God. If we are honest with ourselves, then we must admit that the greater majority of those who formed the U.S. Constitution held the same belief. I don't believe that a certain 'denomination' should be given political favoritism, but I do believe that this country was founded on the Judeo-Christian ideal that all men are created equal and that God is no respecter of persons. Those who believe that they are somehow superior to their fellow man are not truly Christian Patriots and would probably be more comfortable with the self-deifying pagan belief systems which gave rise to Nazi Germany and which in turn have given rise to the New World Order and its hierarchy of leaders who consider themselves to be the "Master Race". So again, there is no neutrality in this war whether it be political, philosophical or spiritual neutrality. So, as Joshua once said... "choose ye this day whom ye will serve". - Branton)
(2) A six-way [Canadian] civil war erupts, involving, in its first stage, the Cree Indians, Quebec population and the Canadian Forces; and in its second stage, the population of Quebec and Canada at three different levels: a war of French against English Canadians, a war between French Catholics and English Protestants and a war of identity.
At this point please allow me to offer a number of relative comments regarding the draconian agenda on and beyond planet earth, following which we will return to the PHILADELPHIA III scenario:
In regards to a potential conflict between Catholics and Protestants, the Charismatic Catholics might be helpful in preventing such a potential 'religious war', due to their emphasis on Christ as the Savior. The Jesuits in the Catholic Church tend to emphasize the deification of Mary, the Saints, and angels whereas the Masons in certain Protestant Churches tend to emphasize the deification of self through fraternal advancement. Taken to the extreme, both of these organizational structures can be turned towards polytheistic idolatry rather than Christ-ianity. It may be that the Jesuit-Masons will try to turn the Catholics against the Protestants and vise versa, encouraging the other to accuse the other of 'blasphemy'. Such accusations, if provoked, will of course be nothing more than blind hypocrisy on both sides. However, focusing on Jesus Christ of Nazareth as the only begotten Son of God would serve to bring all 'Christians' together.
This would be true 'Christ-ianity', as opposed to its counterfeit... 'Church-ianity' or idolatry. Churchianity is apostate Christianity, or a 'church' which has lost its spiritual aspect and focus on 'things above', and has reverted instead into an idolatrous economic and politically based organization, one which exploits spiritual passions and beliefs for the sake of promoting the political and economic agendas of the leaders. BEWARE of those churches who would lead you to believe that a human religious leader or religious leaders are mandatory 'mediators' between us and Christ. If you don't believe that CHRIST ALONE is the savior then you have no right calling yourself a 'Christian', since you are trusting in fallible humans for your salvation. Now of course one has the FREE AGENCY to choose just what to believe, whether they accept Christianity or not, and I'm certainly NOT trying to take your right of self-determination away from you. We DO have the right to choose our destiny, but along with that right comes the responsibility of accepting the consequences of our choices.
The Pharisees -- those who crucified Jesus of Nazareth -- were a perfect example of a religious institution which lost its inward spiritual essence and became nothing but an empty eco-political shell. Jesus had threatened the Pharisees' economic and political hold over the Jews, and so in collaboration with the Romans they were determined to kill Him. However in doing so they unknowingly fulfilled the prophecy in Isaiah chapter 53. The Jesuits, who were behind the inquisitions of Europe -- during which hundreds of thousands of Christians were slaughtered -- and who according to writer Edmond Paris served as 'advisors' to the Nazi S.S. in their 'inquisition' against the Jews, are another example. If I am not mistaken, then it would seem that if an organization ceased from spreading a message of spiritual regeneration for the benefit of others and rather turned to killing hundreds of thousands of European Protestants and Meso-American Natives for the sole purpose of preserving their eco-political empire, then it would seem that this would not be an institution which is based on the teachings of Jesus, and therefore not 'Christian'. The Jesuits never were Christians nor even Catholics. Ignatius Loyola had a previous arrest record in Spain for subversive activities as a Gnostic, and had manipulated himself into the Vatican through flattery by promising an un-discerning Pontiff his devotion as the head of a 'militia' that would serve to protect the interests of the Popes and of the Vatican.
The Jesuit infiltration of Catholicism AND the Masonic infiltration of Protestantism incidentally was planned well in advance by the Bavarian cults. The Bavarian 'serpent' cults control both Jesuitism and Masonry in spite of the apparent outward animosity between the two. In turn they control the Bilderberg society, which at the core has a council or 39 initiates, or 13 Black Nobility, 13 Wicca Masons and 13 Maltese Jesuits. Another example of Jesuit-Masonic collaboration is the Scottish Rite of Masonry itself.
As an interesting note, some contactees refer to an ancient conflict involving Orionite 'Greys' and Sirian 'Nordics'. The Orionites and Sirians allegedly fought for control of the ancient Egyptian ruling fraternities, and this later developed into a war between the [Un]Holy Roman Empire/Jesuits/Nazis who were backed by the Orionites, and their opposition within the British Empire and its Masonic lodges who were backed by the Sirians. With the Orionite infiltration of the extra planetary 'Ashtar' collective or the 'Melchizedek' lodges, and with the infiltration of the Masonic lodges on earth by the Orion-backed Bavarian Jesuit/Illuminati/Thule societies, the unsuspecting Ashtarians and Masons were manipulated into serving the agendas of the Orionite and Jesuit infiltrators, respectively. This is why humans from Sirius-B who had formerly been at war with the Orionites could be turned to serving the agendas of Orionite agents -- operating in and around the Hale-Bopp 'comet' -- who had infiltrated the Sirian's 'Ashtar' collective. To these Sirians, they weren't dealing with 'Draconian-Orionites', but with 'Ascended Masters'. Hale-Bopp is apparently an Orionite 'Trojan Horse', intent on supporting a New World Order to be ruled in part from the CLUB OF ROME's joint Illuminati-Grey Alien base under Pine Gap, Australia. All of this has been prepared in advance through the joint Nazi-Grey abduction and implantation of millions of people throughout the world -- see the quote at the beginning of this file.
Am I insane? Is all of this merely the ramblings of a lunatic? I suppose time will tell, however this is what my 'other worldly sources' have 'told' me, and is followed-up by what others have been saying. Think about it, if a hostile alien force had its sites on earth, would they arrive as part of a mindlessly destructive 'INDEPENDENCE DAY' invasion, or could we credit them with a bit more intelligence -- although no less malevolence -- by carrying out a type of 'Operation Trojan Horse', to coin a phrase from well-known Ufologist John Keel? Perhaps they would plan well in advance to bring the planet to a state where resistance would be minimal... massive abductions, mind control, infiltration, underground staging bases, genetic projects to create alien warriors who could operate well in the environment, overtures to foolish and greedy planetary rulers so as to gain their cooperation, multi-leveled deception and psychological warfare, a global government that would facilitate an easier takeover -- taking control of the leaders of an already-existing power-structure rather than destroying the old structure and creating a new one. And perhaps a main invasion force arriving in the tail of a 'comet' so as not to attract too much fear and negative reaction -- and when the so-called 'comet' passes the planet they could attempt to send out powerful transmissions to activate implants and subliminal programming within abductees.
I believe that it's time that the 'battle lines' are drawn. If we do not know who our friends and our enemies are 'out there' -- that is, those creative and 'free' POWER STRUCTURES as opposed to those destructive and 'slave' POWER STRUCTURES existing upon, below and beyond this planet -- then we are more likely to BECOME the enemy by default. The collectivist Ashtarian and Masonic lodges, with their 'all-inclusive' philosophies, tend to cloud the LINE between self-centered elitist agendas as opposed to agendas based on service towards the overall good of others. The only real thing that the collectivists are 'unified' in is their self-centeredness, and in the collectives only those 'selves' which are strongest will survive, and these 'selves' in turn will tend to siphon
the individuality from the weaker 'selves' around them. It's like the black hole which many astrophysicists believe exists at the center of the galaxy. It is the largest black hole in the galaxy, and even though other smaller 'black holes' exist around it, these tend to be pulled in to and assimilated by the super-black-hole. I wonder if this has anything to do with the Nazi occult worship of the 'Black Sun', which is in essence the worship of the black hole at the center of the galaxy?
The collectivists would also attempt to spread the Gnostic lie that there is no 'good' nor 'evil', but just 'experience'. From my perspective, evil is a "service to self" mode and good is a "service to others" mode, so since these two modes OBVIOUSLY exist, the occult "channelers" for instance who spout this sort of rot are proven to be LIARS. This lie that there is no 'battle-line', so-to-speak, between good and evil because neither really exists, only serves the agenda of evil.
So then, we must draw the 'galactic battle lines' between those alliances which strive to adhere to a service-to-others / non-interventionist philosophy and those alliances which choose to adhere to a service-to-self / interventionist philosophy. Also we will include the collectivists who claim that they don't 'take sides' but are neutral. I am sorry, but in this cosmic conflict which our galaxy finds itself in there is NO neutrality. It's like Switzerland, they were 'neutral' in World War II. But of course their 'neutrality' did not prevent them from protecting stolen Nazi gold in their bank vaults. If one is not for the side of service-to-others, then they are by default on the side of service-to-self, which leads to collectivism, since in a self-centered collective the most selfish tend to assimilate the weaker of their own kind. Collectivism is therefore a form of interventionism, since it violates and invades the individuality and personal sovereignty of others, whether on a planetary, national, local, or individual basis. Individual-Collectivism can be useful, like the INTERNET for instance because the individual has control over their interaction with the collective and can 'log-on' and 'log-off' at any time they chose.
When a collective however INVADES a persons individuality, as the Ashtar and Grey collectives do by implanting permanent micro-electronic devices WITHIN the person, invading their personal boundaries, then that collective is a dictatorship of the worst form as it violates the God-given sovereignty of those who are 'assimilated' or born into such a collective. Once the collective has violated ones personal boundaries by ones personal CHOICE, then they are in essence 'selling their soul' to the collective -- in this case their 'soul' being their identity, emotions, sovereignty, free agency, etc. This puts the person's soul at extreme risk. For instance, an impending example of this on this planet would be a computer chip implanted into one's right hand or in their forehead in order to be a part of a planetary economic collective, as prophesied in Revelation Chapter 13. If one succumbs to such a temptation they would in essence be giving up their soul and identity in exchange for physical gains. Once the soul is COMPLETELY 'assimilated' into such a collective there is no turning back because personal will and free choice have been forfeited. The exception would be someone who is 'assimilated' against their will via deception, or through force and ignorance as with a child.
Even though I myself have been implanted with psionic mind control devices, and at least one hemisphere of my mind assimilated into the Ashtar 'collective', this was done without my full conscious agreement but through deception and trickery. Because of this, I have retained a 'conscious identity' and a will which has been able by the grace of God to 'fight back', even though the 'psychic battles' have been VERY difficult at times, a virtual psychological HELL.
Based on what has been learned from a number of contactees, it would seem as if the Reptiloid-Grey interventionist-collectivists have succeeded in conquering several human colonial worlds in the past through 'Trojan horse' type strategies. Most of these have been quasi-collectivist societies whose global leaders have discouraged national, cultural and individual distinction, and who have sold themselves over to the alien agenda for self-centered motives, succumbing to the deception and propaganda of the aliens. Once the Reptiloid-Grey collectivists however set their sites on planet earth, they were faced with a whole new challenge.
Because of planet earth's national, cultural and individual diversity and because the situation on earth was unpredictable as a result of this, the alien[s] were forced to gain more of a following of collaborating human elite than they normally would in order to establish their global dictatorship. This global 'New World Order' government would more easily facilitate the planet's assimilation into the alien collective. In anticipation of this, the aliens began to support and infiltrate the international fraternal networks [the Lodge, or Masonry] several centuries ago. Being that the United States of America was the strongest supporter of individual sovereignty and freedom -- individual distinctiveness, freedom and creativity being the mortal enemy of the collective -- they established several 'Trojan horse' underground bases in America behind the guise of "technology transfer", below various strategic areas.
Even though representatives from several 'Federation' worlds -- who were well aware of the nature and strategies of the Reptiloid-Grey collectivists because of ages-old conflicts with the same -- warned the NSA-controlled executive branch of government against having anything to do with the "Greys" who were entering the system in staging bases that had been constructed within 'engineered' planetoids, the NSA ignored their overtures. The NSA, which may have already maintained a secret alliance with the reptilian collectivists due to its 'Nazi' roots, continued with the "interaction" projects, heedless to the warnings of the Federationists. The technology exchanges occurred, however needless to say the super-technology could only be used and operated by the aliens themselves, or by agents or scientists working for the fascist corporate-industrialists [rather than the Congressional-Electorate government] who were completely programmed and mind-controlled by the alien "hive". Those within the collaboration who showed signs of resistance against the agenda had a tendency to disappear or die prematurely.
The Reptiloid and Grey interventionists managed to infiltrate and take control of the deeper subterranean human collectivist [Ashtarian] colonies, although as they continued the planetary takeover from the bottom up [the same strategy they use to take over the minds of human abductees -- from the 'deeper' collective unconscious level to the 'outer' individual conscious levels], they met with some resistance from more individualistic American military forces who had access to the underground network, as well as from non-collectivist Federation forces. Through selective implantation and assassination, further dubious treaties, technology exchanges and "false flag" strategies -- i.e. feigning benevolence -- the resistance was for the most part subdued.
Several 'Trojan horse' bases that were used to gain control over specialized fields of military-industrial research and development under the guise of the technology-exchanges were established beneath the following areas: Montauk - Camp Hero, Long Island [quantum-hyperspace mechanics & microwave mind-control]; the Denver International Airport [transportation & human containment]; Little Cottonwood Canyon - Dougway, Utah [cloning & cybernetics]; Mercury - Area-51, Nevada [nuclear & antigravity]; Lancaster - Tehachapi, California [ aerospace & computing]; and Ft. Lewis - Madigan, Washington State [bio-medical & bio-replication]. And of course the major base which supervises the activities taking place in all of the above, the ancient underground facilities below the Dulce - 4-Corners area of New Mexico.
It was inevitable that draconian collectivism and human individualism would eventually clash within the joint-operational underground networks, and it seems to have began in 1975 during a 'demonstration' by the Greys of an antimatter reactor within the underground levels of the Area. There were a large number of human scientists and security personnel present in the underground chamber where the demonstration was taking place. The Greys DEMANDED that the military officers either disarm themselves or leave the room. One military officer, offended by this display of alien arrogance on a planet where the aliens were supposed to be 'visitors', questioned the order. This led to a conflict of interest which erupted into a military altercation, which ended with the death of one Grey alien and several dozen human scientists and security officers.
Although there were apparently no further confrontations at that base [at that time], the incident was NOT forgotten, and may have sowed the seeds of a resistance movement which escalated within the "Dulce" [pronounced "dul-see"] base 4 years later in 1979, which became known as the DULCE WARS.
The resistance was led by the late[?] Thomas Edwin Castello, who was in contact with personal friends until the mid-1990's at which point he disappeared. Castello was head of Security at the multi-leveled base, and joined with 9 other workers initially in an effort to sabotage the biomedical atrocities that were being perpetrated on abductees who were being brought to the base... some temporarily, but others permanently. Others joined the resistance, and even a few tall "reptiloids" which did not agree with the policies of their collective and who had developed a degree of individual emotionalism as a result of their close association with the humans, also joined. There were apparently traitors in the midst of this resistance, although just who it was is uncertain. The resistance grew as the result of the discovery that the "White Draco" leaders of the base had broken the "treaty" and were holding several thousand abductees against their will in more remote alien-controlled levels of the underground network, in cages or in cryogenic containment, so that their body parts could be used for various biogenetic experiments, or worse.
Several of the scientists who had discovered the "Grand Deception" were found out and taken captive and held in peripheral sub-bases such as those beneath the Ute Reservation of SW Colorado and SE Utah, and at least two major altercations broke out. In one conflict, several special forces were sent in to rescue the captive scientists and abductees. This mission was a miserable failure, except for the fact that over 200 aliens were killed and some 66 special forces out of 100 that were sent in also died in the firefight. Another attack was apparently ordered by the leaders of the fascist collaboration, who ordered the assassination of all members of the resistance, Americans, Nordics, Reptiloids... Most of the members of the resistance were slaughtered in cold blood, although a few escaped, Thomas Castello being one of them. Whether or not these attacks were ordered by two different intelligence agencies, or one schizophrenic [MJ-12] agency, the fact remains that these overall events led to a major split within the American intelligence community, and this may have contributed to a similar resistance that DID result in the sabotage and cessation [for a few years at least] of the Thule Society/CIA-NSA/Orion Grey projects at the Montauk base six years later in 1985.
The Reptiloid and Grey collectivist-interventionists of Draconis and Orion became desperate as the situation grew increasingly out of control. Time was running out, and the alien collectivists faced the danger that their centuries-old agenda to infiltrate and conquer the surface nations of planet earth was falling apart at the seems. All efforts were directed towards the infiltration of American and global society in general, and the destruction of the U.S. Constitution and implementation of the New World Order via their collaborator agents on earth.
On a more personal note. For several years I have personally experienced unusual re-occurring "dreams" of interacting with aliens in underground basing systems. Some of these apparently had to do with certain Ashtarian/Telosian-Shastan/Aghartian semi-collectivist colonies which have since been stressed by, if not infiltrated and taken over by, the draconian collectivists. At one point in 1995, a clear and distinct "voice" in my mind told me that I was "a CIA agent". Fearing my sanity, I ignored the "voice", however I was painfully reminded a few days later when I was told by a close friend -- an abductee whose father worked on the Los Alamos Manhattan project -- that in more than one abduction experience "I" myself had come and taken her to some underground facilities below the foothills of the Western Rockies in the Salt Lake Valley of Utah, where we encountered alien beings. The beings presented themselves as being benevolent, but this might have been a facade, that is, unless I subsequently receive proof of the fact.
During one of these experiences she asked "me" why I had security access to all of these underground facilities. According to her -- I kid you not, I did not mention a thing about the "voices" in my head a few days earlier -- "I" reluctantly told her during this abduction episode of hers that it was because I worked for the CIA! I do not "consciously" recall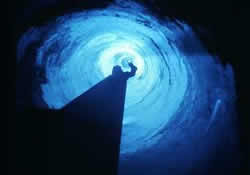 this particular incident, whether as a "dream", or whatever. I do however recall having several "underground dreams" wherein I saw the tall and in some cases small alien humanoids she mentioned. According to several contactees, during abductions alien beings often impose -- through a form of technosis -- a state of consciousness similar to that which one experiences while in the dream state, so that upon awakening the abductee is led to believe that the experience was all a dream, even though evidence often exists suggesting that something did happen during the night. In my friends case it was strange bruises and markings on her body that were not there when she went to sleep.
After hearing this confession by my "other self" of being a CIA agent, she became violently angry and the next morning recalled the emotions relative to the event and in turn the event itself. Both of us have also met other abductees who were experiencing "double lives", a conscious life and a suppressed life in an altered state of consciousness, interacting with aliens of all types. Several of these people -- who happen to live in the Salt Lake Valley -- spoke of being involved, in their nocturnal "alternate" lives as an abductee, with some kind of violent space war taking place between two groups of aliens who maintain underground bases and strongholds within the Rocky Mountains, with each side determined to root out the opposition.
Some have suggested that some of the Greys want to break free from the Draconian-controlled Orion Empire, and may be training human abductees to fight their erstwhile draconian overlords in that capacity if such a revolution occurs. If this were to occur, due to the collective itself, it might be the individualist Hubrids who lead such a resistance, along with Greys who may have developed some degree of independent emotional expression due to their close contact with the more emotionally-individualistic Hubrids. It would seem however that by commandeering the unconscious lives of abductees and training them to fight a war -- against the Draconians, or in the case of "collectivist" Greys against the Federation, the U.S. Government, or what have you -- the Greys are doing to abductees on earth exactly what the Draconians have done to them. They have made them the unconscious puppets of their collective agenda. As they say, abuse tends to breed abusers.
I would NOT suggest that our military come to the aide of any Greys and Hubrids [Hu-brids being hy-brids born with a human soul-matrix] who are trying to defect from the Draconian collective UNLESS the Greys/Hubrids fully submit themselves to a Congressional or a joint Congressional/Federation council if such can be established. The reason for this would be to ensure that all human forces and operations are FULLY monitored by Congress. There WILL no doubt be Greys -- the Grey-Reptiloid hybrids for instance -- which WILL attempt to sabotage such a resistance or feign themselves as being part of the resistance, when in fact they would be working for the Draconian elite. Such collectivist-Greys might try to gain the assistance of a human agency, excusing their former abuses with something like "we didn't have a choice, we were just following the orders of the Dracos... but now we want to rebel and break away from the Draconians with your help.
Even if there were an element of sincerity in the desire for individualist Greys/Hubrids to break free, the collectivists themselves might use the situation to gain a stronger foothold in our society... as they have done with the 'treaties'. Even if some of the past treaties were implemented by Greys with semi-ethical motives, which I strongly doubt, then the collectivists themselves would step in and betray these treaties and use them as Trojan horses to establish more control within human society, which they HAVE done. For this reason, ANY such resistance must be absolutely CONTROLLED AND DIRECTED by Congress or a Congressional/Federation council. Any Grey or even Reptiloid that has just recently acquired individuality and partly severed itself from the collective "hive" could certainly NOT be trusted to make key life-and-death decisions involving humans, since they would no doubt retain some level of residual "collective programming".
Supposing one government agency makes a deal with the Greys to "fight" their enemies the Draco... It could be that yet another government agency might be manipulated into an opposing agenda in what would amount to a galactic Machievellian scenario. It fact it may have already happened. Contactee Alex Collier claims to have learned from Andromedan-Pleiadean non-interventionists -- who have 'blockaded' our system to prevent outside malevolent forces from taking advantage of our present planetary chaos and changes -- that at least one agency has sent out a call for help to alien civilizations to come to our defense and assist us in rooting out the Greys that have become entrenched in our planet. One group responded. Wouldn't you know it, it was the Reptiloids from Alpha Draconis, whose forces are apparently en-route to earth according to Collier. Also, a large armada from Sirius-B is reportedly on its way to the Sol system and due to arrive around 2004, and these may or may not be allies with the Draconians. Hopefully they are not. There are some reports which seem to imply that the large Sirius-B armada may be arriving to defend their own bases in the Sol system and beneath planet earth, that are being stressed or attacked by the Grey-Reptiloid interventionists with whom the Sirians have had conflicts in times past.
As for the Alpha Draconians, if and when they are allowed into our system/planet, they will NOT do anything about the Greys, simply because the Draconians SENT THEM HERE in the first place. My only suggestion is to declare our planet, or at least the "upper" and "lower" Continental United States, a "VERMIN FREE ZONE" -- that is, NO GREYS, NO REPTILOIDS, NO INSECTOIDS -- PERIOD! In order to enforce this we must DEMAND access to the interplanetary and subterranean technology now possessed by the largely alien-infiltrated Military-Industrial Complex. Those members of the Masonic M.I.C. fraternity must realize that this is their only solution, otherwise they will remain stuck between the proverbial rock and a hard place... with the threat of total assimilation -- along with the individuality-killing New World Order -- into the alien collective on the one hand, and the threat of an invasion of their Military-Industrial underground by angry patriotic Americans on the other hand.
Part 1, 2, 3, 4, 5, 6, ^, 8 -->