Betty Hill Passes Away At Age 85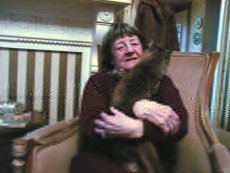 October 17, 2004.
Betty Hill, the Grandmother of Ufology, passed away this morning, October 17, 2004, at the age of 85. Betty struggled with cancer for the past year.
The passing of Betty Hill is sad news to all of us who seek the truth. Without a doubt, the Betty and Barney Hill case of alien abduction has been the cornerstone of belief for many who have suffered the same experience, and those who dare to investigate the mystery of abduction. Still controversial today, the Hill case has been attacked from every angle, and still stood intact. It stood the test of time and criticism because it was real, as real as Betty Hill was. She was a truthful, patient, and kind woman who answered the same questions a thousand times, but never wavered. Until one has stood in her shoes and walked the paths she did, they will never know just how special of a person she was. (B J Booth)
Obituary
By BRUNO MATARAZZO Jr.
Democrat Staff Writer
PORTSMOUTH — When Betty Hill was thrust into the national spotlight in 1965 after word leaked of her and her late husband's encounter with extraterrestrials four years earlier in the White Mountains, it was the start of an extraordinary life.
Eunice Elizabeth Barrett Hill of Portsmouth, known simply as Betty Hill or the "first lady of UFOs" for being a part of the first publicized and best-documented UFO experience, died Sunday in her sleep after a battle with lung cancer. She was 85.
It was in the White Mountains on a return trip from Canada that Hill and her husband, Barney, said they were abducted for two hours by a UFO on Sept. 19, 1961.
It was their story and physical evidence from that night that brought the issue of UFOs and alien life into the national spotlight when a Boston newspaper published transcripts of her encounters. The transcripts were collected while Hill was under hypnosis.
"She was an international celebrity because of her credibility in the UFO event," said Peter Geremia, director of the New Hampshire chapter of the Mutual UFO Network.
The Hills remembered nothing of that night involving the UFO following the incident, except they were chased by some sort of aircraft and couldn't account for about two hours when they eventually returned home.
It wasn't until Barney Hill was put under hypnosis after doctors suspected he was suppressing emotional problems, the story unfolded of how he and his wife were captured by strange beings.
Then Betty Hill went under and more of what happened that night began to emerge.
For about 30 miles in their car, the Hills were followed by the spacecraft. Then the car stalled in the middle of the road when the life forms — resembling short, bald humans with big eyes, no ears and high foreheads — took the two into the woods and into their spacecraft.
The physical evidence from that night would include scuffs on Barney's shoes, stains and tears on Betty's dress, circular marks on their car and their watches, which had both stopped.
Their abduction wasn't the first, according to Dr. Stan Friedman, a nuclear physicist who corroborated the Hills' close encounter of the third kind, but it was the first to get attention.
UFOs got considerable credibility because of Hill, believes Friedman.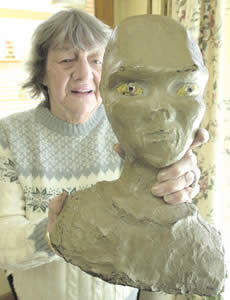 "Their experience was a trendsetter. It got us thinking about this thing. The mentality before was a kind of attitude that there are alien crafts but people were not sure if there was anyone on board. The Hill case said, 'Hey, there are guys aboard and they're doing things," Friedman said in a phone interview from his home in Canada.
What made the Hills' abduction credible, according to Friedman, was the couple never sought out attention. Her place in history occurred when leaked transcripts eventually made it into the press.
Despite her unexpected stardom, Hill never shied away from television and radio appearances, speaking engagements or even a phone call to talk about her experience.
Even after Barney's death in 1969, she continued their work alone.
For the past 15 years she and her niece have lectured and written on the topic of UFOs and in 1995, she published the book, "A Common Sense Approach to UFOs."
Their story became more widely known when the late John G. Fuller published "The Interrupted Journey" in 1966. Later, the TV docu-drama, UFO Incident, starring James Earl Jones and Estelle Parsons portrayed their UFO experience.
"(Betty Hill) knows who she is, she doesn't need the outside world to say, 'you're OK,'" Friedman said. "Betty was a special person."
Her niece, Kathy Maden of Stratham, wants her aunt to be remembered a "wonderful, generous, kind, witty, vivacious person."
Maden was only 13 years old when her aunt and uncle returned from their trip up north.
Throughout their life, the two have worked in the field of UFOs and Maden is now director of the UFO investigator training with the Mutual UFO Network.
Hill didn't speak out about UFOs to get rich.
She rejected materialism and used her personal wealth to make charitable contributions to a number of organizations, including The Carter Foundation, Doctors Without Borders, The Salvation Army, The Southern Poverty Law Center, UNICEF, and the Rockingham County Community Action Program.
"She was a very simple person," Maden said of her aunt.
When not crossing the country giving tours, the two talked and debated about international and national politics and child behavior management.
They also debated UFO abductions — those Hill believed and those she didn't.
Maden doesn't believe her aunt regretted being brought into the spotlight about her abduction because it gave her the opportunity to travel to places and meet people related to the field.
Hill's life was not all about UFOs.
She was a social worker for the state of New Hampshire where she trained foster parents and worked in the area of adoption.
She took a special interest in her wards and followed many of them throughout their lives, taking pride in their achievements. When asked what she would most like to be remembered for she responded, "as a damn good social worker."
She was also an activist throughout her life where she was a member of the NAACP and a founding member of the Rockingham County Community Action.
Born in Newton, she was the oldest of five children growing up on their family farm in Kingston. She graduating from Sanborn Seminary in 1937 and attended the University of New Hampshire in Durham for two years.
She left college to marry her first husband, Robert Stewart, of Kittery, Maine, with whom she raised three children.
After their divorce, she went back to UNH, where she majored in social service. She graduated with honors in 1958 and later participated in graduate studies.
In addition to her husband, she was predeceased by her daughter, Rose Marie Stewart Norton of York, Maine.
Ms. Hill is survived by her daughter, Constance Jean Stewart Zukowski of North Little Rock, Ark., a son, Kenneth James Stewart of San Jose, Calif., and a niece, Kathleen Florence Miller Maden of Stratham. She is also survived by three sisters, seven grandchildren; great grandchildren, nieces, nephews and grandnieces and grandnephews.
A funeral service will be held at 10 a.m. Thursday at Brewitt Funeral Home, 14 Pine St., Exeter. Burial will be private.
Visiting is from 2 to 4 p.m. and 6 to 8 p.m. Wednesday at the funeral home.
In lieu of flowers, donations may be made to Portsmouth/Derry/Salem Home Health and Hospice, 95 Brewery Lane, Portsmouth, N.H. 03801; Rockingham County Community Action Program, 7 Junkins Ave., Portsmouth, N.H. 03801 and The Mutual UFO Network, P.O. Box 369, Morrison, Colo. 80465-0369.
Sources:
http://www.fosters.com/October_2004/10.19.04/news/po_1019b.asp
http://www.ufocasebook.com/bettyhillpasses.html
Other Photos of Betty and Barney Hill