REPORT OF AIR FORCE RESEARCH REGARDING THE
"ROSWELL INCIDENT"
July 1994
EXECUTIVE SUMMARY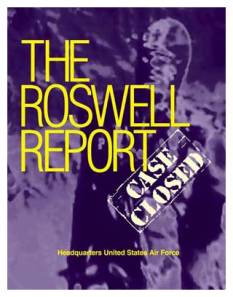 The "Roswell Incident" refers to an event that supposedly happened in July, 1947, wherein the Army Air Forces (AAF) allegedly recovered remains of a crashed "flying disc" near Roswell, New Mexico. In February, 1994, the General Accounting Office (GAO), acting on the request of a New Mexico Congressman, initiated an audit to attempt to locate records of such an incident and to determine if records regarding it were properly handled. Although the GAO effort was to look at a number of government agencies, the apparent focus was on the Air Force. SAF/AAZ , as the Central Point of Contact for the GAO in this matter, initiated a systematic search of current Air Force offices as well as numerous archives and records centers that might help explain this matter. Research revealed that the "Roswell Incident" was not even considered a UFO event until the 1978-1980 time frame. Prior to that, the incident was dismissed because the AAF originally identified the debris recovered as being that of a weather balloon. Subsequently, various authors wrote a number of books claiming that, not only was debris from an alien spacecraft recovered, but also the bodies of the craft's alien occupants. These claims continue to evolve today and the Air Force is now routinely accused of engaging in a "cover-up" of this supposed event.
The research located no records at existing Air Force offices that indicated any "cover-up" by the USAF or any indication of such a recovery. Consequently, efforts were intensified by Air Force researchers at numerous locations where records for the period in question were stored. The records reviewed did not reveal any increase in operations, security, or any other activity in July, 1947, that indicated any such unusual event may have occurred. Records were located and thoroughly explored concerning a then-TOP SECRET balloon project, designed to attempt to monitor Soviet nuclear tests, known as Project Mogul. Additionally, several surviving project personnel were located and interviewed, as was the only surviving person who recovered debris from the original Roswell site in 1947, and the former officer who initially identified the wreckage as a balloon. Comparison of all information developed or obtained indicated that the material recovered near Roswell was consistent with a balloon device and most likely from one of the Mogul balloons that had not been previously recovered. Air Force research efforts did not disclose any records of the recovery of any "alien" bodies or extraterrestrial materials.
INTRODUCTION
Air Force involvement in the alleged UFO-related incident popularly known as the "Roswell Incident" began as the result of a January 14, 1994, Washington Post article (Atch 1) which announced Congressman Steven Schiff's intent to initiate a General Accounting Office (GAO) effort to resolve this controversial matter. Having previously been involved in numerous Freedom of Information Act (FOIA) and Congressional requests on "unusual aircraft," to include Unidentified Flying Objects (UFOs), The Director, Security and Special Program Oversight, Office of the Secretary of the Air Force, (SAF/AAZ) believed the Air Force would become involved in any GAO effort involving this subject.
Thus, in late January, 1994, SAF/AAZ directed its research/declassification team, SAF/AAZD, to attempt to locate any official records relative to this matter. These initial research efforts focused on records at the Air Force Historical Research Agency (AFHRA), Maxwell AFB, AL, the Air Force Safety Agency (AFSA) at Kirtland AFB, NM, and the National Archives and Records Administration (NARA).
On February 15, 1994, the GAO officially notified Secretary of Defense William J. Perry that, it was initiating an audit of the Department of Defense (DoD) policies and procedures for acquiring, classifying, retaining, and disposing of official government documents dealing with weather balloon, aircraft, and similar crash incidents (Atch 2). This notification was sub- sequently passed to the Department of Defense Inspector General who in turn officially notified the Secretaries of the Services and other affected parties of the audit in a February 23, 1994, memo (Atch 3). This memorandum indicated that the "GAO is anxious to respond to Representative Schiff's request and to dispel any concerns that the DoD is being unresponsive." These were the first official US Government documents that indicated that the purpose of the GAO was to review "crash incidents involving weather balloons and unknown aircraft, such as UFOs and foreign aircraft, and (2) the facts involving the reported crash of an UFO in 1949 (sic, 1947) at Roswell, New Mexico ... (and an) alleged DoD cover-up."
An entrance meeting of potentially concerned parties was held in the offices of the DoD Inspector General on February 28, 1994. During this meeting it was learned that, while the audit officially would be reviewing the records of a number of DoD (and possibly other Executive Branch entities), the bulk of the effort would be focused on Air Force records and systems. The audit was officially given the GAO code 701034, and entitled "Records Management Procedures Dealing With Weather Balloon, Unknown Aircraft, and Similar Crash Incidents." Although this official title appeared rather broad, there was no misunderstanding that the real purpose was to attempt to locate records and/or information on the "Roswell Incident." This incident, explained later in more detail, generally dealt with the claim that in July of 1947, the US Army Air Forces (USAAF) recovered a flying saucer and /or its alien occupants which supposedly crashed near Roswell, New Mexico. When the USAAF ultimately became the United States Air Force (USAF) in September, 1947, the USAF inherited equipment, personnel, records, policies, and procedures from the AAF. In this particular case, the Air Force also inherited the allegation that it had "covered up" the "Roswell Incident" and has continued to do so for the next 47 years.
Within the Air Force, the Office of the Administrative Assistant to the Secretary of the Air Force (SAF/AA) is responsible both for information management procedures (SAF/AAI) and security policy and oversight (SAF/AAZ). Because of this organization, SAF/AA was the logical entity to assist the GAO in its audit and SAF/AAZ was officially named as the Central Point of Contact for this endeavor (Atch 4). Subsequently, the then Administrative Assistant, Mr. Robert J. McCormick, issued a tasking memorandum dated March 1, 1994 (Atch 5), to a number of current Air Staff and Secretariat offices that might possibly have records related to such an incident if, indeed, something had actually occurred. This search for records was purposely limited to Air Force records and systems since:
(a) The Air Force had no authority to compel other agencies to review their records;
(b) The Air Force would have no way to monitor the completeness of their efforts if they did; and
(c) the overall effort was the task and responsibility of the GAO--not the Air Force.
During the in-briefing process with GAO, it was learned that this audit was, indeed, generated at the specific request of Congressman Steven Schiff of New Mexico. Earlier, Congressman Schiff had written to the Department of Defense Legislative Liaison Office for information on the "Roswell Incident" and had been advised that it was part of the former UFO "Project Bluebook" that had previously been turned over to NARA by the Air Force. Congressman Schiff subsequently learned from NARA that, although they did, indeed, have the "Bluebook" materials, the "Roswell Incident" was not part of that report. Congressman Schiff, apparently perceiving that he had been "stonewalled" by the DoD, then generated the request for the aforementioned audit.
It is within this context that the following research and assistance efforts were conducted in support of the GAO. This report is intended to stand as the final official Air Force response regarding this matter.
THE "ROSWELL INCIDENT"--WHAT WAS ORIGINALLY REPORTED IN 1947
The modern preoccupation with what ultimately came to be called Unidentified Flying Objects (UFOs) actually began in June, 1947. Although some pro-UFO researchers argue that sightings of UFOs go back to Biblical times, most researchers will not dispute that anything in UFO history can compare with the phenomenon that began in 1947. What was later characterized as "the UFO Wave of 1947" began with 16 alleged sightings that occurred between May 17 and July 12, 1947, (although some researchers claim there were as many as 800 sightings during that period). Interestingly, the "Roswell Incident" was not considered one of these 1947 events until the 1978-1980 time frame. There is no dispute, however, that something happened near Roswell in July, 1947, since it was reported in a number of contemporary newspaper articles; the most famous of which were the July 8 and July 9 editions of the Roswell Daily Record. The July 8 edition reported "RAAF Captures Flying Saucer On Ranch In Roswell Region," while the next day's edition reported, "Ramey Empties Roswell Saucer" and "Harassed Rancher Who Located 'Saucer' Sorry He Told About It."
The first story reported that the Intelligence Officer of the 509th Bomb Group, stationed at Roswell AAF, Major Jesse A. Marcel, had recovered a "flying disc" from the range lands of an unidentified rancher in the vicinity of Roswell and that the disc had been "flown to higher headquarters." That same story also reported that a Roswell couple claimed to have seen a large unidentified object fly by their home on July 2, 1947.
The July 9 edition of the paper noted that Brigadier General Roger Ramey, Commander of the Eighth Air Force at Forth Worth, Texas, stated that upon examination the debris recovered by Marcel was determined to be a weather balloon. The wreckage was described as a "..bundle of tinfoil, broken wood beams, and rubber remnants of a balloon...... The additional story of the "harassed rancher" identified him as W.W. Brazel of Lincoln County, New Mexico. He claimed that he and his son, Vemon, found the material on June 14, 1947, when they "came upon a large area of bright wreckage made up of rubber strips, tinfoil, a rather tough paper, and sticks." He picked up some of the debris on July 4 and ."..the next day he first heard about the flying discs and wondered if what he had found might have been the remnants of one of these." Brazel subsequently went to Roswell on July 7 and contacted the Sheriff, who apparently notified Major Marcel. Major Marcel and "a man in plain clothes" then accompanied Brazel home to pick up the rest of the pieces. The article further related that Brazel thought that the material:
"..might have been as large as a table top. The balloon which held it up, if that is how it worked, must have been about 12 feet long, he felt, measuring the distance by the size of the room in which he sat. The rubber was smoky gray in color and scattered over an area about 200 yards in diameter. When the debris was gathered up the tinfoil, paper, tape, and sticks made a bundle about three feet long and 7 or 8 inches thick, while the rubber made a bundle about 18 or 20 inches long and about 8 inches thick. In all, he estimated, the entire lot would have weighed maybe five pounds. There was no sign of any metal in the area which night have been used for an engine and no sign of any propellers of any kind. Although at least one paper fin had been glued onto some of the tinfoil. There were no words to be found anywhere on the instrument although there were letters on some of the parts. Considerable scotch tape and some tape with flowers printed upon it had been used in the construction. No string or wire were to be found but there were some eyelets in the paper to indicate that some sort of attachment may have been used. Brazel said that he had previously found two weather balloons on the ranch, but that what he found this time did not in any way resemble either of these."
EVOLUTION OF THE EVENT FROM 1947 TO THE PRESENT
General Ramey's press conference and rancher Brazel's statement effectively ended this as a UFO-related matter until 1978, although some UFO researchers argue that there were several obtuse references to it in 1950's era literature. Roswell, for example, is not referred to in the official USAF investigation of UFOs reported in Project Bluebook or its predecessors, Project Sign and Project Grudge, which ran from 1948-1969 (which Congressman Schiff subsequently learned when he made his original inquiry).
In 1978, an article appeared in a tabloid newspaper, the National Inquirer, which reported the former intelligence officer, Marcel, claimed that he had recovered UFO debris near Roswell in 1947. Also in 1978, a UFO researcher, Stanton Friedman, met with Marcel and began investigating the claims that the material Marcel handled was from a crashed UFO. Similarly, two authors, William L. Moore and Charles Berlitz, also engaged in research which led them to publish a book, The Roswell Incident, in 1980. In this book they reported they interviewed a number of persons who claimed to have been present at Roswell in 1947 and professed to be either first or second hand witnesses to strange events that supposedly occurred. Since 1978-1980, other UFO researchers, most notably Donald Schmitt and Kevin Randle, claim to have located and interviewed even more persons with supposed knowledge of unusual happenings at Roswell. These included both civilian and former military persons.
Additionally, the Robert Stack-hosted television show "Unsolved Mysteries" devoted a large portion of one show to a "re-creation" of the supposed Roswell events. Numerous other television shows have done likewise, particularly during the last several years and a made-for-TV movie on the subject is due to be released this summer. The overall thrust of these articles, books and shows is that the "Roswell Incident" was actually the crash of a craft from another world, the US Government recovered it, and has been "covering up" this fact from the American public since 1947, using a combination of disinformation, ridicule, and threats of bodily harm, to do so. Generally, the US Air Force bears the brunt of these accusations.
From the rather benign description of the "event" and the recovery of some material as described in the original newspaper accounts, the "Roswell Incident" has since grown to mythical (if not mystical) proportions in the eyes and minds of some researchers, portions of the media and at least part of the American public. There are also now several major variations of the "Roswell story." For example, it was originally reported that there was only recovery of debris from one site. This has since grown from a minimal amount of debris recovered from a small area to airplane loads of debris from multiple huge "debris fields." Likewise, the relatively simple description of sticks, paper, tape and tinfoil has since grown to exotic metals with hieroglyphics and fiber optic-like materials. Most versions now claim that there were two crash sites where debris was recovered; and at the second site, alleged bodies of extraterrestrial aliens were supposedly retrieved. The number of these "alien bodies" recovered also varied. These claims are further complicated by the fact that UFO researchers are not in agreement among themselves as to exactly where these recovery sites were located or even the dates of the alleged crash(es).
Consistently, however, the AAF was accused of securing these sites, recovering all the material therefrom, keeping locals away, and returning the recovered wreckage (and bodies) to Roswell under extremely tight security for further processing and later exploitation.
Once back at Roswell AAF, it is generally alleged that special measures were taken to notify higher headquarters and arrangements made to have recovered materials shipped to other locations for analysis. These locations include Ft. Worth, Texas, the home of the Eighth Air Force Headquarters; possibly Sandia Base (now Kirtland AFB), New Mexico; possibly Andrews AAF, Maryland, and always to Wright Field, now known as Wright Patterson AFB, Ohio. The latter location was the home of "T-2" which later became known as the Air Technical Intelligence Center (ATIC) and the Air Materiel Command (AMC), and would, in fact, be a logical location to study unknown materials from whatever origin. Most of the Roswell stories that contain the recovery of alien bodies also show them being shipped to Wright Field. Once the material and bodies were dispersed for further analysis and/or exploitation, the government in general, and the Army Air Forces in particular, then engaged in covering up all information relating to the alleged crash and recovery, including the use, of security oaths to military persons and the use of coercion (including alleged death threats) to others. This, as theorized by some UFO researchers, has allowed the government to keep the fact that there is intelligent extra-terrestrial life from the American public for 47 years. It also supposedly allowed the US Government to exploit recovered extraterrestrial materials by reverse engineering them, ultimately providing such things as fiber optic and stealth technology. The "death threats," oaths, and other forms of coercion alleged to have been meted out by the Army Air Forces personnel to keep people from talking have apparently not been very effective, as several hundred people are claimed to have come forward (without harm) with some knowledge of the "Roswell Incident" during interviews with non-government researchers and the media.
Adding some measure of credibility to the claims that have arisen since 1978 is the apparent depth of research of some of the authors and the extent of their efforts. Their claims are lessened somewhat, however, by the fact that almost all their information came from verbal reports many years after the alleged incident occurred. Many of the persons interviewed were, in fact, stationed at, or lived near Roswell during the time in question, and a number of them claim military service. Most, however, related their stories in their older years, well after the fact. In other cases, the information provided is second or thirdhand, having been passed through a friend or relative after the principal had died. What is uniquely lacking in the entire exploration and exploitation of the "Roswell Incident" is official positive documentary or physical evidence of any kind that supports the claims of those who allege that something unusual happened. Conversely, there has never been any previous documentary evidence produced by those who would debunk the incident to show that something did not happen; although logic dictates that bureaucracies do not spend time documenting non-events