Many people often wonder who he really was. Was he just another prophet? Just a man who happened to be a really good person? The very Son of God? Personally, when I read his message I see wisdom that was much before its time.
He not only taught the basic spiritual principle of loving your fellow man - he also seemed to have some real insight into scientific principles:
Ok, I'm going to play the part of the person who doesn't know what an airplane is. Now, if I were to tell you that last night I saw a set of flashing stars that moved across the sky, what would you say? Would you agree that they were stars, or would you tell me that I really saw an airplane?
With this in mind, look at the following passages. Remember, the wise men knew what stars were, but probably didn't know what UFOs were:
We all know that stars don't move across the sky and hover over a particular house, don't we? If I'm wrong about that, I hope there's an astronomer out there who will let me know. So what was it that the wise men saw hovering over that house? Could it be the first UFO recorded in association with the life of Christ? Or maybe it wasn't...
Before the wise men followed the Star of Bethlehem, we have this account of a strange encounter:
Luke 2: 8-15 (NIV)
And there were shepherds living out in the fields nearby, keeping watch over their flocks at night. An angel of the Lord appeared to them, and the glory of the Lord shone around them, and they were terrified. But the angel said to them, "Do not be afraid. I bring you good news of great joy that will be for all the people. Today in the town of David a Savior has been born to you; he is Christ the Lord. This will be a sign to you: You will find a baby wrapped in cloths and lying in a manger." Suddenly a great company of the heavenly host appeared with the angel, praising God and saying, "Glory to God in the highest, and on earth peace to men on whom his favor rests." When the angels had left them and gone into heaven, the shepherds said to one another, "Let's go to Bethlehem and see this thing that has happened, which the Lord has told us about."
Wow, it must have been quite a sight. Were these angels accompanied by UFOs? Maybe that's what is meant when it says they went "into heaven." And it could account for the amazing amount of light that they reported.
Other Events During The Life Of Christ
These strange encounters from the sky didn't stop after the birth of Christ. They seemed to follow him throughout his time here on earth. For example, I always wondered where the voice in the following example came from:
John 12:28-30 (NIV)
(Jesus speaking) "...Father, glorify your name!"
Then a voice came from heaven, "I have glorified it, and will glorify it again." The crowd that was there and heard it said it had thundered; others said an angel had spoken to him.
Jesus said, "This voice was for your benefit, not mine".
Hmm, strange, hey? The account doesn't give a weather report, but imagine if there was a low cloud cover that day. Do you think maybe a craft could have been hiding there, watching Jesus speak, when it got a message to relay to the crowds? Now remember what I said in the introduction to the UFO section of the EARS site, I don't take anything away from the power of God, but maybe this was one of those cases where he used extraterrestrial workers to help do his work.
Jesus' Baptism
The baptism of Jesus is also surrounded by some interesting events:
Mark 1: 9-11 (NIV)
At that time Jesus came from Nazareth in Galilee and was baptized by John in the Jordan. As Jesus was coming up out of the water, he saw heaven being torn open and the Spirit descending on him like a dove. And a voice came from heaven: "You are my Son, whom I love; with you I am well pleased."
Here we see another case of a voice from heaven. In this case, the gospel writer also includes a visual picture of "heaven being torn open." When I hear this phrase I envision a bright light, or some other event in the sky that the gospel writer had trouble explaining. Whatever it was, it's clear that there was something extraordinary happening in the skies that day over the Jordan river.
The Transfiguration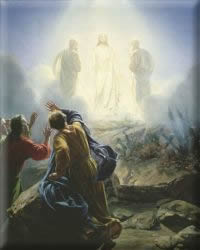 The event known as the "transfiguration" also contains some interesting details that the gospel writers seem to have had a difficult time putting into words:
Matthew 17: 1-8 (NIV)
After six days Jesus took with him Peter, James and John the brother of James, and led them up a high mountain by themselves. There he was transfigured before them. His face shone like the sun, and his clothes became as white as the light. Just then there appeared before them Moses and Elijah, talking with Jesus.
Peter said to Jesus, "Lord, it is good for us to be here. If you wish, I will put up three shelters--one for you, one for Moses and one for Elijah."
While he was still speaking, a bright cloud enveloped them, and a voice from the cloud said, "This is my Son, whom I love; with him I am well pleased. Listen to him!" When the disciples heard this, they fell facedown to the ground, terrified. But Jesus came and touched them. "Get up," he said. "Don't be afraid."
When they looked up, they saw no one except Jesus.
Notice how the event was enough to really scare the usually brave Peter, but Jesus remained calm. Was this something Jesus had seen before? He seemed very at ease with the whole situation. If the bright light came from some kind of craft that had landed, it may indicate that Jesus was very familiar with these craft and they were nothing new to him. Maybe this was something that actually happened often in those times where Jesus went off by himself to pray.
Jesus' Final UFO Encounter?
Take a look at this next passage and tell me what it sounds like to you:
Acts 1: 9-11 (NIV)
After he said this, he was taken up before their very eyes, and a cloud hid him from their sight. They were looking intently up into the sky as he was going, when suddenly two men dressed in white stood beside them.
"Men of Galilee," they said, "why do you stand here looking into the sky? This same Jesus, who has been taken from you into heaven, will come back in the same way you have seen him go into heaven.
The account states that a "cloud" hid him from their site. Was Jesus final departure into a UFO? From what I read here, I don't have a better explanation. If it was a UFO, was the ascension of Jesus his final UFO encounter?
Nope, we ain't seen nothin' yet...
The men dressed in white who are recorded above tell the witnesses that Jesus will come back in the same way he left. Jesus agreed. Here's what he had to say about his return:
Matthew 26: 63-64 (NIV)
But Jesus remained silent. The high priest said to him, "I charge you under oath by the living God: Tell us if you are the Christ, the Son of God."
"Yes, it is as you say," Jesus replied. "But I say to all of you: In the future you will see the Son of Man sitting at the right hand of the Mighty One and coming on the clouds of heaven."
Even before he appeared before the high priest, Jesus had told his disciples the very same thing:
Matthew 24:30 (NIV)
"At that time the sign of the Son of Man will appear in the sky, and all the nations of the earth will mourn. They will see the Son of Man coming on the clouds of the sky, with power and great glory."
What Does All This Mean?
Now if UFOs were involved in the life of Jesus, the implications are astounding. Maybe that's why most churches don't want to deal with the whole issue. But every day the evidence of alien visitors to our planet becomes stronger and stronger. Could some of these visitors be working for the same Jesus Christ that we know from the Biblical record?
IMPORTANT: Please note that I am NOT implying that all encounters with UFOs are related to Jesus. In fact, many could actually be working to try to prevent Jesus' return (a foolish and misguided attempt in my opinion) and in a lot of cases the argument that aliens are "demonic" may well be true. Just as in Biblical times, there are two sides at work today.
The fact that there are two sides at work makes it even more important that people get to know the real Jesus. He himself predicted that many would come claiming to be him. He also said that many would fall for those kinds of tricks. Certainly, anyone trying to imitate Jesus would play on common stereotypes about what the popular culture believes Jesus would be like.
Matthew 24:24 (NIV) Jesus Speaking
"For false Christs and false prophets will appear and perform great signs and miracles to deceive even the elect--if that were possible."
How many people have actually taken the time to get to know the REAL Jesus personally well enough to tell the difference? If he came back in a UFO today - riding on the clouds as he put it - how many people do you think would recognize him? Would you?
-----------------------------------------------------------------------------------